Jordan Lee Tucker
November 10, 1990 - November 15, 2008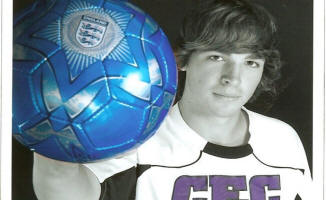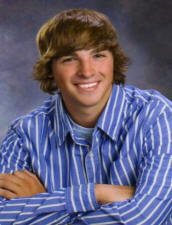 The obituary from the newspapers: Jordan L. Tucker, age 18 years and 5 days, of Cloquet, passed away unexpectedly in his sleep early Saturday, November 15, 2008. He was born November 10, 1990 in Duluth. Jordan attended Churchill Elementary School, Cloquet Middle School, and would have graduated next spring from Esko High School. He was an honor student with a passion for fishing and hunting especially around Lake Vermilion where he had many "secret" walleye spots. Jordan loved soccer and was named all-conferences goalie and played in the all star game this fall. He also was an excellent youth soccer referee.
Jordan is dearly loved and greatly missed by his mother and step-father, Barbara and Mike Krzenski; father and step-mother, Jeff and Kathi Tucker; sisters Amanda and Breanna Tucker; grandparents, Bob and Danielle Stevens, Karen Tucker, Ron and Jean Tucker; great-grandparents, Mary and Stanley Hill; uncles Brad (Toni) Stevens, Rick (Maureen) Tucker, and aunt Julie (Lowell) Fermenich; step-sister, Amber (Ben) Ward; step-brothers, Jake (Kristy) Krzenski and Jesse Krzenski; numerous cousins; and a multitude of very good friends.
Jordan had a great sense of humor, and a deep baritone voice that rumbled when he spoke. He was a tough man, a good friend, a great son, and the best brother. He will always be remembered, never forgotten, and his memories will be honored as well as treasured. In lieu of flowers, memorials are preferred to a memorial fund in Jordan's name at U.S. Bank.
Visitation will be 5:00 – 8:00 p.m. Wednesday, November 19, 2008 at Nelson Funeral Care in Cloquet. The visitation will resume on Thursday, November 20, 2008 from 2:00 p.m. until the 4:00 p.m. funeral service at Grace Baptist Church in Cloquet, followed with a time of fellowship in the church social hall. The family has selected Nelson Funeral Care of Cloquet to assist them with arrangements. See their online guest book at www.nelsonfuneralcare.net.
---------------------------------------------------
Tuesday, November 18th, 2008: In honor of Jordan, the East High School (Duluth, MN) and Hermantown High School (Hermantown, MN) and Esko High School (Esko, MN) soccer teams and students wore black. Tomorrow all of Esko will be wearing blaze orange. In his memory, Esko students did a walk-out yesterday and a bunch went to lunch at Applebee's Restaurant (Jordan's favorite place). While they don't typically allow open lunches, the principal was understanding. After school Barb said upwards of 20 guys went to their home to eat and share memories. Some are texting Barb, some are still texting and calling Jordan's cell phone. The choir from his school dedicated their concert to Jordan. With everyone so upset they could only sing 2 songs - one a lullaby, the other "In the Arms of Angels" by Sarah McLachlan. Everyone held hands and cried. All the staff and students were wearing blaze orange ribbons in his memory (and are today as well). Today at 3pm, a friend of his will be at the Baylor College basketball game and have a sign dedicated to Jordan he will be holding up - if you have ESPN, please watch and if you can, take a picture for me as I do not have cable or satellite television.
I guess if you're so inclined, please wear blaze orange in honor of a soul so giving and caring I am honored to say I knew him, much less being his father. He set out his goals and achieved them, one by one. He cared for others. We can all learn from Jordan Lee.
Duluth News-Tribune article on Jordan's passing, November 18, 2008
Duluth News-Tribune - Jordan's obituary, November 18, 2008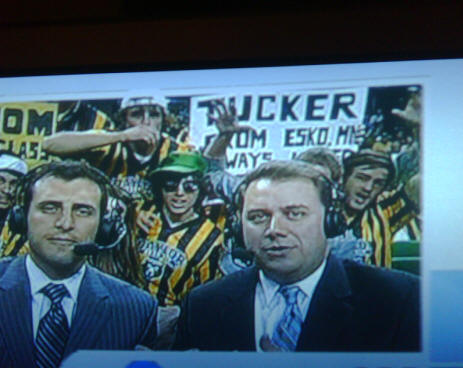 This is the sign a friend of Jordan's held up at the Baylor College basketball game, 11/19/08, which was televised on ESPN. Jordan would've loved this tribute. It read: "TUCKER from Esko, MN, ALWAYS LOVED"
SOME OF THE BLOGS AFTER JORDAN'S DEATH. I guess to me, the first five pretty much say it all.
Make Your 8:20pm Count - Last Words
Lessons I learned my final meal with Jordan 11/30/08
The haze, life after death 11/22/08
Little things and their big effect 12/30/09
Video of Cloquet-Esko-Carlton retiring Jordan's soccer number/jersey 09/25/09
Jordan Tucker's Jersey & Number to be retired 09/25/09
Jordan Lee Tucker - One Year After His Death
Jordan Tucker Memorial Soccer Clinic 07/25/09
Head of the Lakes Soccer Tournament will honor Jordan Tucker 06/11/09
Memories of Christmas Past 01/11/09
Christmas without Jordan 12/31/08
Raindance Farms & Horse Co., LLC
Jeffrey L. Tucker
(click on name for email info)
P O Box 16232
Duluth, MN 55816
(c) 2008-2012 Jeffrey L. Tucker & Raindance Farms & Horse Co., LLC. all rights reserved